Welcome To RyzerDoor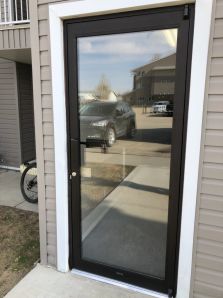 Ryzer Door Control Inc is committed to the growth and development of our most important asset: our customers! That's why with our entranceway solution approach, we ARE the one stop for our customers need for consultation, sales, installation, training and service for the openings in their facilities. This customer focused approach has satisfied many customers!
Ryzer door control Inc is a leading provider of sales, service, and installation of our manual & automatic door systems and door controls. Our service area encompasses the western province of Saskatchewan. We carry a large selection of inventory of door hardware including all major automatic door manufacturer components to provide fast response time and delivery of your order...
We Specialize in Commercial door service
we offer professional door repair service on all types of walk-in doors, Handicap and Automatic Entrances for Glass Aluminum doors,Hollow metal doors, Fire rated doors, Wood Doors, etc.

306-352-2068
Commercial Sales
We offer a high quality line of products
Tormax automatic door operators - www.tormaxusa.com
Hager Companies -

www.

hager

co.com

Artek Door LTD -

www.

artekdoor

.com

Medeco High Security Locks - www.medeco.com
Rutherford Controls -

www.

rutherfordcontrols

.com

Camden Door Control products - www.camdencontrols.com
Canaropa -

www.

canaropa

.com

DS group of companies -

the

dsgroup

.com
Gallery